Weaving Room
Published on

August 21, 2023
2

min read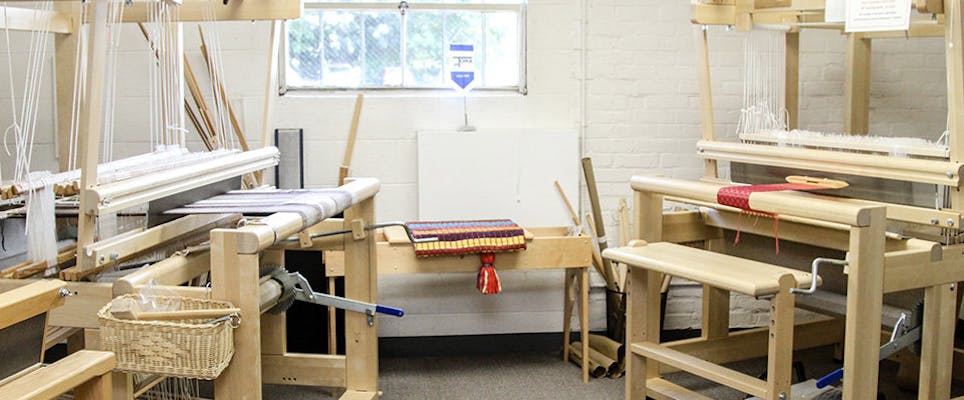 Warped Looms in our retail store's Weaving Room Available for Weaving Today!
Did you know our Northampton store has an entire room dedicated to the art of weaving? Equipped with looms of every shape and style, we encourage you to stop by and take a loom for a test drive! The following looms have warps on them and are ready for you to use. To ensure there aren't scheduling conflicts, we recommend contacting our Weaving Coordinator Mary Jones (mjones@yarn.com). For test-driving our TOIKA computer-assisted looms an appointment is always required but for our standard looms drop-ins are always welcome!   

The measurement by each loom indicates the maximum weaving width, unless otherwise noted.

Floor Looms
Louet David III- 8 shaft 27.5"
Schacht Standard- 8 shaft, 36"
Schacht Wolf Pup- 4 shaft, 18"
Schacht Baby Wolf- 8 shaft, 26"
Toika Eeva countermarch- 8 shaft, 48"
Toika computer-assist Eeva- 24 shaft, 40"
Table Looms
Louet Erica- 2 shaft, 12"
Louet Jane- 8 shaft, 15.75"
Schacht Cricket Quartet Upgrade on a 15" Schacht Cricket - 13.5"

Rigid Heddle Looms
Schacht Flip (on stand)- 20"
Schacht Cricket (not on stand)- 10" Schacht Cricket (on stand)- 15"

Small looms
Schacht Arras Tapestry Loom
Schacht Tapestry Loom 18" (Please Note: Only the 25" is now available, but the 18" demo will give you a great feel for the loom!)
Schacht Inkle Loom
Schacht Zoom Loom
Schacht School Loom
The following looms are available for sale at our Northampton location but aren't available for demonstration:
Potholder Looms & Accessories
Schacht Easel Weaver
Harrisville Designs Lap Loom
Ashford Inklette